Plastic Mouldings is the principal custom dip moulder in Europe. We have been a leader in the development of the process and its applications for over 35 years. We have our own toolroom from which we develop concept prototypes and manufacture production tooling.

A substantial number of our employees have worked with us for over 35 years. Consequently, a major asset of our company and available to our customers, is a reservoir of specialised technical know-how about the process of dip moulding.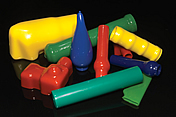 | | | |
| --- | --- | --- |
| The process needs only simple aluminium tooling, shaped by machining or casting, to the internal dimensions of the required moulding. It is because such tooling is inexpensive by comparison, for instance, with injection moulding, that small and medium quantities can be produced economically. Complex shapes can be moulded allowing considerable design freedom. The natural finish of the mouldings is smooth, glossy, textured or matt and shows no tool split lines. | | |



Dip moulding is essentially a technique for the economical production of flexible and semi-rigid PVC components. Often used for mass production, it is particularly suitable for medium and small quantities.

A related but somewhat different technique is used for the production of Neoprene components.


Our quality assurance procedures have been approved by all our major customers, who include leading names in the automotive, electrical and mechanical engineering industries.